Dog boarding is available at our own Muck Creek Kennels, at the home of owners Jon and Lyn Borcherding just 20 minutes from Woofers Grooming & Goodies.
Muck Creek Kennels provides each dog with a 6-foot by 6-foot heated indoor kennel attached to individual outdoor runs that are 6 feet by 12 feet. The dog kennels and runs are surrounded by an acre of securely fenced exercise yard.
We recognize the vital importance of exercise and enrichment in our dogs' lives. It is our belief that the quality of the time your dog spends with us is determined, more than anything else, by the amount of attention and human contact he receives while in our care. We will do everything in our power to insure that your dog thrives with us. This includes providing a 15 minute walk/play session every day, included in your daily lodging price! In addition to the 15 minute play/walk session included in your price, you can also choose a daytime activity from a menu of exercise options for your dog to enjoy during his/her stay with us. We encourage you to add activities or training that will make your dog's stay more enjoyable. Happy dogs come back for their next boarding with heads out the window and tails wagging!
Boarding is $32. per day.
Please call Jon at 253-442-9625 for more information.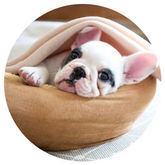 Overnight Boarding
Overnight, dogs sleep in individual, comfortable runs in which they have quiet, personal space after a full day of play.
REVIEWS ABOUT OUR LOCAL GROOMING & PET SUPPLY STORE
We offer the best customer satisfaction and service whether it be our pet nutrition specialist or our local grooming service. We love our customers from Spanaway areas around Rocky Ridge, Elk Plain, Loveland, Berkeley, Hillhurst, Frederickson, Spanaway, Allison, and Brookdale!
Come visit our pet supply store in Spanaway, WA specializing in quality food, treats, and supplies for cats and dogs.