Training at Muck Creek Kennels
Jon and Lyn Borcherding offer professional dog training at their Muck Creek Kennels in Roy, an easy 20-minute drive from their Woofers Grooming & Goodies.
Muck Creek Kennels provides numerous dog training options, with classes for you and your dog as well as 30 Day Bootcamp where your dog comes to live with us while he/she is trained.
A bit about 30 Day Bootcamp
Jon Borcherding will teach your dog prompt and consistent response to the four basic commands SIT, HEEL, HERE and DOWN. Your dog will learn to walk nicely on lead and he will enjoy doing it! He will sit when you tell him to and he will come when called.
You will attend training sessions during the last week of his training so that Jon can familiarize you with the proper handling skills to keep the shine on your new, well behaved dog!
About Jon:
Jon is an ABI certified dog trainer with certificates in Animal Training and Enrichment and the use of positive reinforcement training methods. He is also an avid bird hunter with years of experience training and hunting with dogs. His experience and education in both modern and traditional methods makes Jon a well-rounded trainer who puts your dog's well-being first. Jon uses careful observation to understand each individual dog. He knows there is no "one size fits all" in dog training, and he chooses the best method for your dog.
Several different rescue groups have hired Jon to train their rescue dogs. After spending 30 days at Muck Creek Kennels, the rescue dogs have gone on to be good canine citizens in their forever homes.
To discuss your individual needs and training goals, give Jon a call at 253-442-9625.
30 Day Obedience Boot Camp is $1,200.00
Private Lessons are only $60.00 per session
Boot Camp Testimonial from Rachel Wash:
"We just picked up our 1-year old Goldendoodle Griffey last Saturday evening after her first 'real' time away from us for the 30-day boot camp.
First, let me say to the people that choose to send their puppy to boot camp for 30-days and who maybe feel like it will 'change' your pup somehow…let me assure you, your pup will come back to you with all the love it left with – just more obedient! We could tell right away that Griffey was having so much fun, learning so much, and really liked working with and being challenged by John – and, it was 100% evident he takes his job both seriously, and with a lot of heart.
He gave us great tips and advice to keep her training going, and assured us that we have been making good decisions with her up to this point. He had so much information, I really felt like I could ask him anything and he would confidently answer or at least have some ideas on how to address certain situations.
We 100% fully endorse Muck Creek Kennels for everything they offer. John is incredible to work with, SUPER knowledgeable in types of dogs and their limits/abilities, offers all kinds of training and has a beautiful facility…and, you can tell right away, he LOVES what he does.
Thank you, thank you, thank you from the Wash Family – and Griffey!"
Charlie the rescue dog was sent to us for training. He will be an excellent canine citizen for his new family.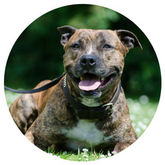 Aggression Training
We educate to correct hostility as well as various other hazardous behaviors such as territory hostility, fear aggression, food protecting as well as begging, yawping, weeping, and submissing peeing. We see to it your pet dog is in a safe setting to make them really feel comfy while learning their brand-new abilities.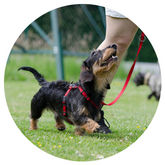 Beginner Training
Beginner training for dogs is crucial. Pet dogs aim to please, so with these beginner approaches as well as methods, they will certainly give your dog's chances to make you pleased. Our training courses begin with the typical sit, stay and come. However as your pet dog advances, we provide more tough requests that are used in our other programs! These are designed to keep your dog involved and also on their toes.


Behavior Modification
Here at Woofers Grooming & Goodies, we focus on pet dog behavior modification. Canine behavior modification is where we change existing pet dog actions. This includes however is not limited to training in or modifying chain rules, eating, pet dog source protecting, barking, separation stress and anxiety, chain lunging, chain aggressiveness, dog-on-dog hostility, as well as pet dog to human aggression.

REVIEWS ABOUT OUR LOCAL GROOMING & PET SUPPLY STORE
We offer the best customer satisfaction and service whether it be our pet nutrition specialist or our local grooming service. We love our customers from Spanaway areas around Rocky Ridge, Elk Plain, Loveland, Berkeley, Hillhurst, Frederickson, Spanaway, Allison, and Brookdale!
Come visit our pet supply store in Spanaway, WA specializing in quality food, treats, and supplies for cats and dogs.