Dog Grooming Service in Spanaway, WA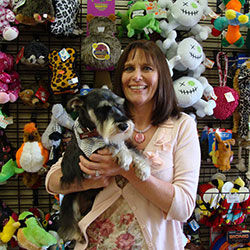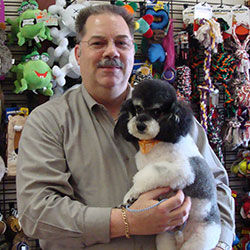 Woofers Grooming & Goodies is home to a full-service dog grooming salon. The salon offers quick, while-you-wait dog nail trims without appointment, as well as tooth brushing, anal gland expression, and flea protection. We welcome appointments for full-service baths and haircuts.
Full-service dog grooming includes a bath, fluff-dry, brush-out, a haircut if desired, nails clipped and filed, anal glands expressed, and ears plucked and cleaned. Each dog struts out sporting a festive bow or a fun bandana.
We use only all-natural shampoos. For dogs with sensitive skin, we have a hypo-allergenic, scent-free, and dye-free shampoo available on request. If you have a specific concern about your dog's skin or coat, feel free to consult our staff. We will be happy to offer suggestions for the health of your pet.
From Sonja Lamont:
"It's a great feeling knowing I can walk into Woofers and get pretty much everything I need for my dogs! I would much rather support a local business, especially one that really cares about my the well being of my dogs, and are always happy to answer questions and assist me with whatever I need for my dogs. I trust Woofers completely and would not take my dogs anywhere else!"
From Amelia Petersohn:

"I'm very happy with my Woofers experience! After many recommendations from friends & family I took my very anxious long haired dachshund to these ladies and he loved it. He walked back with his groomer with ease (which is a huge accomplishment for a dog with the separation anxiety that my Oscar has) and came out happy as can be! Not only that but I got the first appointment of the day and was able to pick him up an hour later! Much better than the 4-5 hours I've had to wait with other groomers in the past. He came out a happy, handsome pup :)"
REVIEWS ABOUT OUR LOCAL GROOMING & PET SUPPLY STORE
We offer the best customer satisfaction and service whether it be our pet nutrition specialist or our local grooming service. We love our customers from Spanaway areas around Rocky Ridge, Elk Plain, Loveland, Berkeley, Hillhurst, Frederickson, Spanaway, Allison, and Brookdale!
Come visit our pet supply store in Spanaway, WA specializing in quality food, treats, and supplies for cats and dogs.